Joe's Priorities
Housing & Regeneration
The housing and homeless crisis is a national scandal with the number of homeless people exceeding 10,000 in 2020.
A new Dáil must declare a housing emergency, stop evictions, control rents, end tax breaks for vulture funds and initiate social and affordable home building programmes.
Health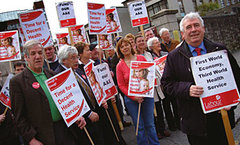 Waiting lists for patients are at crisis point. Record numbers of sick people are waiting for beds in
our over-crowded hospitals. The cost of the new Children's Hospital is astronomical. The Government is
spending a fortune but is failing dismally to protect people's health
The new Dáil must invest more in hospital beds, end the recruitment embargo and provide funding for home help and respite care so people can be cared for at home. Child and alolescent mental health services must be resourced and funded.
Climate Change
The Government has failed to meet any of its climate change targets and Ireland is facing severe financial penalties from the EU in 2020. Carbon reduction policies must be implemented urgently and biodiversity and sustainability promoted. Our planet and our country are at stake.
The new Dáil must provide investment in public transport and cycling, an insultation programme for 100,000 homes each year, creating local jobs, warmer homes and lower energy bills. Investment is needed in clean energy, recycling and land management.
A Living Wage
The economy is thriving yet more and more families are unable to make ends meet. The cost of accommodation, services and utilities have sky-rocketed under this Government. Legislation for a living wage to cover the real cost of living must be a priority for the next Dáil. The right to trade union representation must also be enshrined in law.
Pensions
Pension entitlements are being eroded. This mean-minded Government gave no increase in the state pension for 2020. Increasing the state pension age to 67 in 2021 and 68 in 2028. The state pension age should be frozen at 66.
Traffic and Transport
Our towns and cities are getting more and more congested. This Government has failed to invest in bus, light and heavy rail services, safe cycleways and pedestrian routes. A new Dáil must ensure investment in a proper integrated public transport service.
Education and Childcare
Education is no longer free with "voluntary contributions" at second level and new charges at third level. Childcare is hugely expensive for parents and is grossly underfunded by the Government. The sector is now in crisis. The new Dáil must prioritise education and childcare.
Pimary education must be made genuinely free of charge, with free schoolbooks and healthy school meals. We need a National Childcare scheme - parents should never have to choose between their children and their job.
Crime & Policing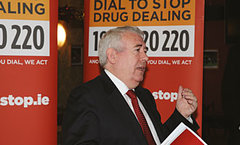 As a Member of the Community Policing Forum and North Inner City Drugs Task Force Joe is all too aware of the impact crime and drugs have on our communities in Dublin Central. Community policing must be prioritised and our Garda Stations in Whitehall and Fitzgibbon Street which were closed must be reopened and Cabra Garda Station should be opened on a fulltime basis.
An Gaeilge
Seasann Joe agus Pairte an Lucht Oibre go laidir ar thaobh ár dteanga. Is í ár n-aidhm ná stádas na Gaeilge a ardú mar theanga choiteann agus a ról sa saol culturach aguas acadúil a athneartú.